If you have ever been looking for a second-hand CZ handgun you must have come across a used Vz. 82 pistol or its commercial variant CZ 83. Is it any good? Let's have a look.
Back in 1975 CZ factory was given a task to create a new handgun chambered in 7,65mm Browning (aka .32 ACP) to replace CZ 70 pistols in the Czechoslovak export portfolio.
The idea was that the new handgun should be easily adaptable to other calibers like 9mm Browning (.380 ACP), 9mm Makarov, and interestingly also the exotic 9×18 Police.
Initially, the gun was intended to be a single stack all-steel handgun with a single-action/double-action trigger. However, at the very early stage of the development, a request popped up to build the gun around a double-stack high capacity magazine and so even the very first prototype already had a high capacity magazine. And that was just one of the benefits of CZ 83.
The first prototypes were marked as "033", later also ČZ 033 as you can see in the pictures. This was an internal code dedicated to CZ 83 and a handful of the first batch handguns were even exported marked like this. While the wooden grip one features many different solutions you would not find on a serial production gun, the other one is pretty much identical to what was produced in the end.
Those of you who had a chance to try any version of this pistol noticed that it has a pretty comfortable grip and a decent trigger pull. The reason behind that is its designer, Augustin Nečas, to whom the task was given in the CZ factory, was known especially for his ZKR 590 Grand revolver and many other especially sport shooting handgun prototypes. He also cooperated with František Koucký on the design of CZ 75 which is known for the same qualities and thus the smaller CZ 83 inherited these features as well.
Very soon it became apparent that CZ 83 may as well be a decent service pistol comparable with the Soviet Makarov and in June 1977 the Czechoslovak Ministry of Defence turned up with the requirement to adapt the pistol to 9mm Makarov, at that time a service cartridge of the Warsaw pact countries. The Czechoslovak Police liked the design as well so they decided to jump on the same train.
The result was a whole family of pistols marked as CZ 83 chambered in 7,65mm Browning, 9mm Makarov, and 9mm Browning for the commercial market and a service variant chambered in – wait for it – 9mm Vz. 82 cartridge, a Czechoslovak version of 9mm Makarov. Today, we will focus on CZ 83, however, so if you are interested in Vz. 82, make sure you subscribe and stay tuned because we will talk about it in one of the upcoming articles indeed.
Regarding the differences between the duty and civilian versions, 95% of production operations and the vast majority of parts are the same for all versions which allowed CZ to streamline the production of both models side by side.
Today, CZ 83 is no longer in production, and the shooters looking for .380 ACP handguns may choose from more modern P-10 or P-07. Still, CZ 83 is a very interesting piece of firearms history not only for your collection but also for range use.
Now let's have a look at the gun as such. We already mentioned a modern double-stack magazine. However, CZ 83 pistols also used an ambidextrous magazine release and safety. This was rather uncommon at that time.
The grip of the pistol is a little thicker compared to for example Makarov pistols but it is shaped very well and fits naturally to all hands. Big or small CZ 83 fits them all.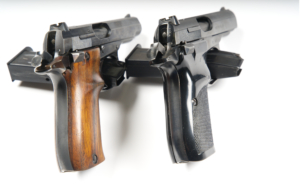 The hammer has a very pronounced spur which is there for a reason. Unfortunately, the requirement from the Czechoslovak officials to add a decocker to the design came a bit too late and was omitted. Therefore the only way to carry the gun Condition 2 is to load it and lower the hammer manually. We certainly do not recommend that!
Interestingly the wooden grips prototype does feature a combination of safety (lever up) and decocker (lever down) but we can see why the already quite complex trigger system did not like any such addition. It would be cool if the gun had this option, though.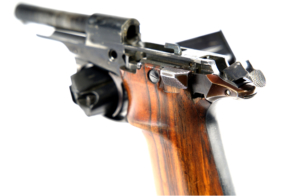 We already talked about the decent trigger which is based on the same principle as the venerable CZ 75, however, we need to mention a trigger guard here. It is quite large so you can use the gun even with thick winter gloves but the interesting (and patented) feature dwells in the way it allows you to disassemble the gun. The basic disassembly works similarly to a Makarov pistol – slide back and up – but with CZ 83 you do not need to hook the trigger guard in any way, you just pop it down and proceed with a disassembly. The clever feature is the protrusion in the rear part of the trigger guard that does not allow you to disassemble the gun with an inserted magazine. Soldier proof indeed!
One of the prototypes was using a different disassembly solution many of us know from their 1911s, Hi-Powers, or CZ 75 pistols – a cross pin that serves as a slide release lever and a locking pin. To be honest, we believe it was pretty much redundant here as it primarily serves as a camshaft for the above-mentioned handguns and with a fixed barrel the trigger guard disassembly seems to be a better way to go.
The slide is a very simple construction, however, it is missing the traditional firing pin safety. Instead, the designer used a patented hammer block which seemed to be a completely sufficient solution. It also, compared to an ordinary spring-loaded plunger allowed for a lighter and smoother trigger. However, as it turned out later in some cases with the service version of the gun, it may not be completely drop safe and therefore we certainly recommend you do not carry one with a round in the chamber.
The barrel is indeed fixed as we are talking about a simple blowback handgun. That, indeed, helps the accuracy and makes the production way easier.
The sights are also an improvement compared to Vz. 70 or Vz. 52 pistols. Gone are the tiny little V-notch rear sights and small front posts. These sights are not bad at all even by today's standards. After all the same solution was later adopted by CZ 75 handguns.
So to wrap up we can say that the CZ 83 family of pistols is a pretty accurate, reliable, and comfortable handgun. It may not fulfill all the safety standards of the 21st century, especially due to a missing firing pin safety and decocker. Despite that, however, it will still be an entertaining range companion. No matter if you pick it up chambered in 9mm Makarov, .32 ACP, or .380 ACP it will make you smile from ear to ear.
https://www.czforthosewhoknow.com/app/uploads/2021/11/nah.jpg
452
2550
sedlacik
https://www.czforthosewhoknow.com/app/uploads/2020/03/czftk-svg.png
sedlacik
2021-11-22 18:00:17
2021-12-27 17:35:31
CZ 83 - In the shadow of CZ 75