For centuries Czech gunsmiths were famous for their high-quality hunting rifles and nowadays these pieces of firearms history are often pinnacles of private as well as public collections.
Generally speaking until the end of WW1 vast majority of firearms produced in the area of later Czechoslovakia was a custom work based on the precise requirements with a very large portion of manual labor. In other words, these guns were handcrafted and thus rather expensive.
After the end of the Great War Czechoslovakia became one of the leading countries in firearms production. The backbone of then firearms production was a rifle based on ingenious Mauser M 98 design.
Almost four decades and one World War later a group of Czechoslovak firearms designers led by the famous brothers František and Josef Koucký were working on a brand new hunting rifle that was needed in the portfolio of the Czechoslovak firearms industry. The idea was to replace the existing ZG 47 rifle with a new weapon that would be simplified and more flexible in terms of production.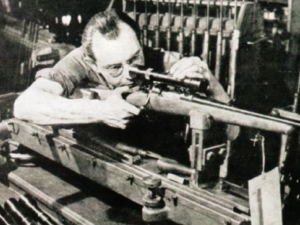 ZG 47 rifle being zeroed at Brno Factory 
The rifle itself was designed in their Prague design bureau and was supposed to be produced in Zbrojovka Brno. However, a popular activity of communist governments was so-called delimitation – shuffling of various production programs between different factories and so it was decided that the new rifle would be produced in Uherský Brod, today's CZ factory.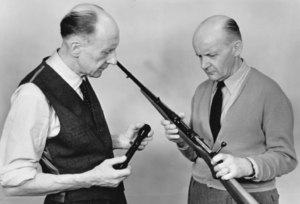 Koucký brothers were always working together
Given the name ZKK 600, the production of the new family of rifles started in 1966 and was available in 18 different calibers. First, let's talk about why "family" of rifles? There were three different models hidden under the ZKK 600 series differing in the length of the receiver.
ZK 600 was the standard mid-size model that could have accepted a large variety of the most common hunting cartridges with an overall length of up to 18mm incl. for example 7×57, 8×57, .30-06 or 9,3×62.
ZKK 601 was meant to be used by those who preferred smaller cartridges with up to 70mms of length like .222 Rem. .223 Rem. .243 and .308 Winchester.
The last version ZKK 602 should have been used by those who needed to knock down really large animals and thus offered space for cartridges of up to 95mm in length. That was enough space for .375 H&H Magnum, .458 Winchester Magnum, and later also .300 Winchester Magnum. This version also featured a rubber pad at the end of the buttstock to soften the recoil a little bit.
In general majority of parts and production steps were identical for all these rifles which made it easier for the manufacturer and also for the users looking for spare parts.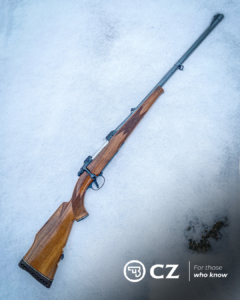 As a standard, you could have purchased any version with either a standard curved trigger or a flat face one using what Czechs call a French-style set trigger. When the gun is loaded and the firing pin is cocked you need to first move the trigger forward slightly thus releasing part of the pressure from the trigger and then you end up with a very light crisp trigger pull. Plus the straight trigger looks cool, doesn't it?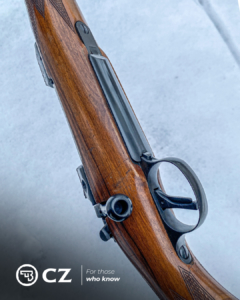 The walnut wooden stock was offered in two variants, standard with a nice cheek weld and a comfortable grip, and Monte Carlo which added some additional checkering around the nose of the stock. Btw. all the checkering on both models was 100% pure manual labor!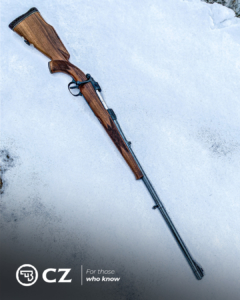 The bolt with a long extractor is a one-piece part and is exactly what you would expect from the Mauser style action – simple, smooth, durable, reliable. The only complaint people had in regards to the mechanical part of the ZK 600 series was the safety on the right side of the bolt that was a bit loud and was pushed forward to safe and backward to fire. Fun fact: despite being produced in CZ Uherský Brod, the rifles, per an agreement between CZ and Zbrojovka Brno were marked with the Zbrojovka Brno's "Z" logo up until 1976.
Other than that ZKK 600 series rifles have served hunters all across the globe very well. In total 203 117 pieces were assembled in Uherský Brod factory until fully replaced by CZ 550 in early 2000. Quite impressive numbers right?
Sources:
D. Pazdera – Legenda Jménem CZ
www.valka.cz
www.vhu.cz
https://www.czforthosewhoknow.com/app/uploads/2021/12/thumbnail2.jpg
310
961
sedlacik
https://www.czforthosewhoknow.com/app/uploads/2020/03/czftk-svg.png
sedlacik
2021-12-27 17:30:25
2022-01-31 16:12:40
ZKK 600 - CZ's hunting bestseller