Do you like plinking? Ah, yes, we know you do! Everybody enjoys sending those tiny little .22 lead rounds down the range. This is the reason why semi-auto rimfire rifles have been so popular ever since the .22LR cartridge was invented. Let's have a look at the story of CZ's own plinker.
Back in the 1950s the Czechoslovak government agency responsible for firearms export known as Omnipol requested a new design of semi-automatic .22 LR rifle that could be offered as a part of their portfolio. The task was given to experienced designers, brothers Josef and František Koucký.
The result of their inventive cooperation was ZKM 581 introduced in 1957 and as always it was a hit. Literally.

Btw. if you were ever wondering what ZKM means it is Zbrojovka – Koucký – Malorážka which, translated to English means "Name of the company – Name of the designer – Rimfire rifle".
The assembly line was at first built at the Brno factory, also known as ZB (Zbrojovka Brno), however, due to delimitation of firearms production, it was decided to move the production to CZ at Uherský Brod where it began in 1964. Despite the slow start, the total production at CZ reached 28.981 pieces with the last rifle assembled in 1979.
The story does not end here, however. CZ was very well aware of the demand for semi-auto training rifles and even before the production of ZKM 581 had been ceased there was a facelifted version prepared. Being lighter than its predecessor CZ 511 lasted in production for almost three decades until 2006 when the last of 23.097 rifles left the factory.

The rifle was available in two variants – Standard and De Luxe where the difference was mainly in the stock. The De Luxe version had checkered grip areas and a high-gloss finish whereas the Standard option lacked checkering and instead of walnut, the stock was made from beechwood with a more matte surface treatment.
Inside the wooden stock, you can find a simple yet ingenious system. The rifle works, of course, based on the simple blowback principle, however, the bolt itself kind of telescopes under the chamber helping to balance out the rifle very well. That feature not only adds to a very pleasant recoil impulse but also provides space for the recoil spring and its guide rod.
Magazine capacity was 8 or 16 rounds for the earlier version, CZ 511 only used 8 rounders.
As mentioned already, CZ 511 remained in the portfolio until replaced by CZ 512 in 2010. However, in this case, we are not talking about a simple facelift of the older model even though it was considered via cooperation with Zbrojovka Brno. The idea was to produce their improved ZKM 611 model, which was supposed to be called CZ 411. In the end, this collaboration failed, so CZ decided to start from scratch.
Compared to CZ 511 the new model was supposed to be simpler and more versatile than its predecessor. CZ decided to hand over the initial part of the development to the Slavičín design bureau which is known for some very advanced firearms patterns. Using modern materials like polymer for trigger housing and an upper receiver machined from lightweight aluminum alloy the rifle was expected to be just as versatile as the bolt action series CZ 455 incl. a caliber change possibilities. Interchangeable barrel allowed for a simple swap from .22 LR to a larger .22 WMR by simply changing a bolt, a barrel, and a magazine.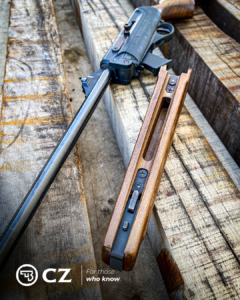 As you can tell from the picture CZ also developed a fully ambidextrous version, where not only the charging handle but also the ejection port could have been swapped based on the shooter's needs. Unfortunately, this version never made it past the prototype stage.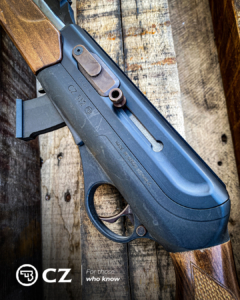 Over time CZ improved one specific disadvantage of the design. Due to the simplification of the internal components, the gun lacked last round bolt hold open. For that purpose, a manual bolt catch was added to the trigger guard.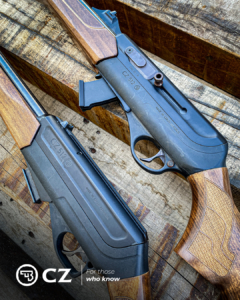 A simple fixed rear sight, that is windage adjustable and a traditional hooded front post work very well even for quick target acquisition but if you want to be more accurate you can take advantage of the 11mm dovetail for a scope rings or a Picatinny mount and use whatever optical system you favor.
The wooden stock, which was universal for both right and left-handed shooters was later accompanied in the CZ portfolio by a more modern polymer stocked version called CZ 512 Tactical. Magazine options also grew from CZ 511s 8 rounds to 5, 10, and 25 rounders.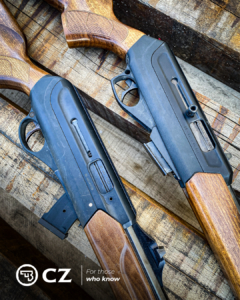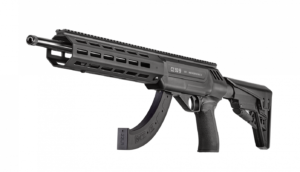 Although CZ 512 was forced to kind of sit in the shadow of its more famous bolt action brothers CZ 455 and CZ 457 it is still a very interesting rifle and should be a target of any CZ aficionado.
Author: Jakub Ondrušek
https://www.czforthosewhoknow.com/app/uploads/2022/05/279097431_690298495556696_8819917900056902311_n.jpg
344
1213
sedlacik
https://www.czforthosewhoknow.com/app/uploads/2020/03/czftk-svg.png
sedlacik
2022-04-25 13:58:35
2022-05-30 14:10:38
CZ 512 - A Great Plinkster