CZ 75 has been a flagship of the CZ portfolio since it was introduced in 1975. Despite its slow start, this groundbreaking combination of extremely low recoil, superb accuracy, very decent trigger pull, high capacity magazine, and perfect ergonomics attracted the attention of many sport shooters.
The pistol seemed to be ideal for plenty of disciplines including IPSC, which was at that time gaining more and more popularity. It is hard to believe that Česká zbrojovka had not had any dedicated competition model until 1995. Let's have a look at the history of the grandfather of the CZ Shadow and Tactical Sport series.
The introduction of CZ 75 can be, without any doubt, described as one of the cornerstones of modern combat shooting. Its qualities are appreciated by sports shooters even today. Currently, they can choose from different variants of CZ Shadow 2 and CZ TS 2 models and use them for plenty of different disciplines. In the 1980s, however, there was no such option and the owners who wanted to compete with their CZ 75s had to take their weapons to a skilled gunsmith to modify them per their particular needs.
The first attempt of the CZ factory to comply with the demand for a competition model was developed from the ambidextrous version of CZ 75 called "CZ 85 Combat". The impulse came in 1982 and in 1983 Combat version was finished. Compared to today's competition models it looks rather ordinary, however, it features a new trigger with adjustable overtravel, fully adjustable rear sight, improved grip texture, and a modified magazine release allowing faster reloading.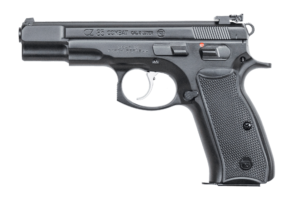 After the 1989 Velvet revolution, the CZ factory became more independent of the state and was able to react to new trends in firearms construction with more flexibility than ever before.
In 1992 CZ decided to come up with a fully dedicated competition model for the IPSC Open division. The task was eventually given to a talented designer and sports shooter Stanislav Střižík, who built the prototype of the CZ 85 Champion.
The pistol featured a flat face single action only trigger, fully adjustable LPA rear sights, and rubber grips but the most distinctive element was, no doubt, the large compensator including a counter-weight mounted to a recoil spring guide rod.
Only 150 pieces were ever made (130 guns in 9mm Luger and 20 more in 9×21). Subsequently, the gun was renamed to CZ 75 Champion even though it still featured ambidextrous controls.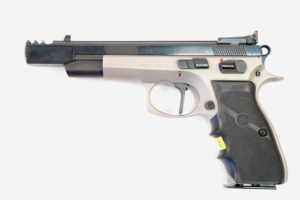 In 1994 CZ finished the development of the .40 S&W version assembling the first batch of 50 guns. Since this new and progressive cartridge had more kick than the standard 9mm Luger, the gun was equipped with a four-chamber compensator, compared to the three-chamber version for the 9mm Luger.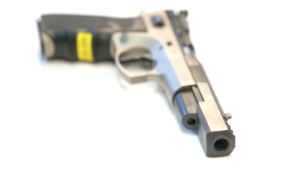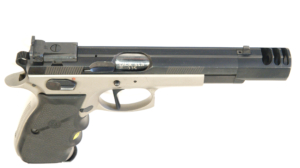 The majority of CZ 75 Champions were made in the very decent looking two-tone finish with a blued slide and light gray painted frame. This design was then inherited by the future IPSC models.
One of the shortcomings of the CZ 75 Champion was the fact that it was based on a standard frame. That meant the gun was only supposed to be used with ordinary CZ 75 magazines. Since IPSC shooting disciplines put a lot of o stress on a magazine capacity, 15 rounds did not seem to be sufficient, not to speak about the .40 S&W version with only 12 rounds. Therefore CZ decided to fully rework the gun including the frame, which was beefed up, and the thicker grip allowed for the use of brand new higher capacity magazines. That's another story, however, which we will definitely cover in one of the future articles.
All in all, we can say that CZ 75 Champion was a very important step forward for CZ. Not in terms of the quantity sold, but it certainly confirmed the idea that CZ 75 is more than an ideal platform for competition models. And this trend successfully goes on even today.
https://www.czforthosewhoknow.com/app/uploads/2022/06/novy-projekt-1x.jpg
432
1500
sedlacik
https://www.czforthosewhoknow.com/app/uploads/2020/03/czftk-svg.png
sedlacik
2022-05-30 14:10:54
2022-06-27 15:24:18
CZ 75 Champion - CZ goes IPSC!