In its quest to put a world-class performer in the hands of shooters who want a sport pistol that's easier to handle and carry, CZ introduces the CZ SHADOW 2 COMPACT. A smaller, lighter, optics-ready version of CZ's full-size flagship sport pistol – the CZ SHADOW 2.
DNA of a world champion
Sport shooters around the world are familiar with the highly celebrated CZ SHADOW 2, a full-size sport pistol used by numerous IPSC competitors to win world championship titles in the Production and Production Optics divisions, such as nine-time IPSC world champion Eric Grauffel. Although a highly accurate and easy to handle pistol on the shooting range and in competitions, the larger dimensions and weight of a full-size steel frame did not make it a good choice for all day carry. But this was soon to change…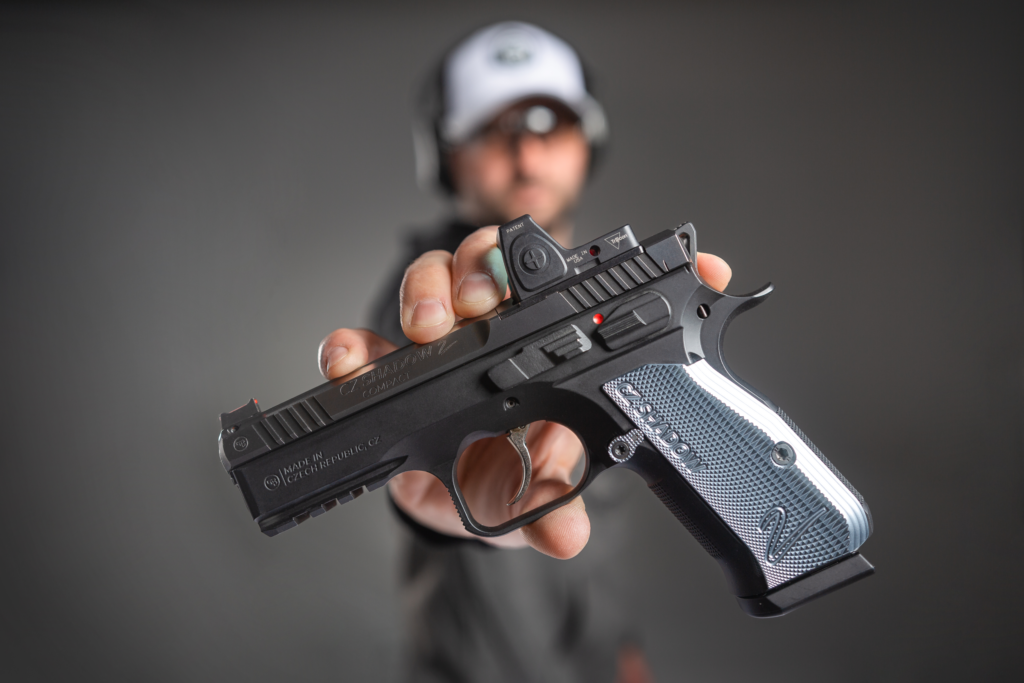 Planting the seeds for a new kind of compact
CZ-USA Product Manager Rich Huff first came with the idea to create the CZ SHADOW 2 COMPACT in October 2021. His goal was to have the same world class design, accuracy, handling and controls as on the full-size CZ SHADOW 2, but in a smaller form factor. He wanted more shooters to have access to the highest performance CZ offers in its handguns while away from the shooting range and competitions.
Once CZ made the decision to move forward with this new model, the baton for its design and development was passed to one of CZ designers, Jiri Tichy. Tichy boldly took the reins and led the R&D team in making sure this new pistol would fully live up to the CZ SHADOW 2 name. Development was completed in May 2023 with a production trial run, followed by its worldwide release in August 2023.
Thanks to the active contributions of these two important figures, the CZ SHADOW 2 COMPACT was brought into the CZ portfolio and is now available on the world market. Sadly, Huff passed away back in February 2022 at just 48 old, so he did not live to see the completion of the project and the launch of this new model – but we are sure he would have loved it!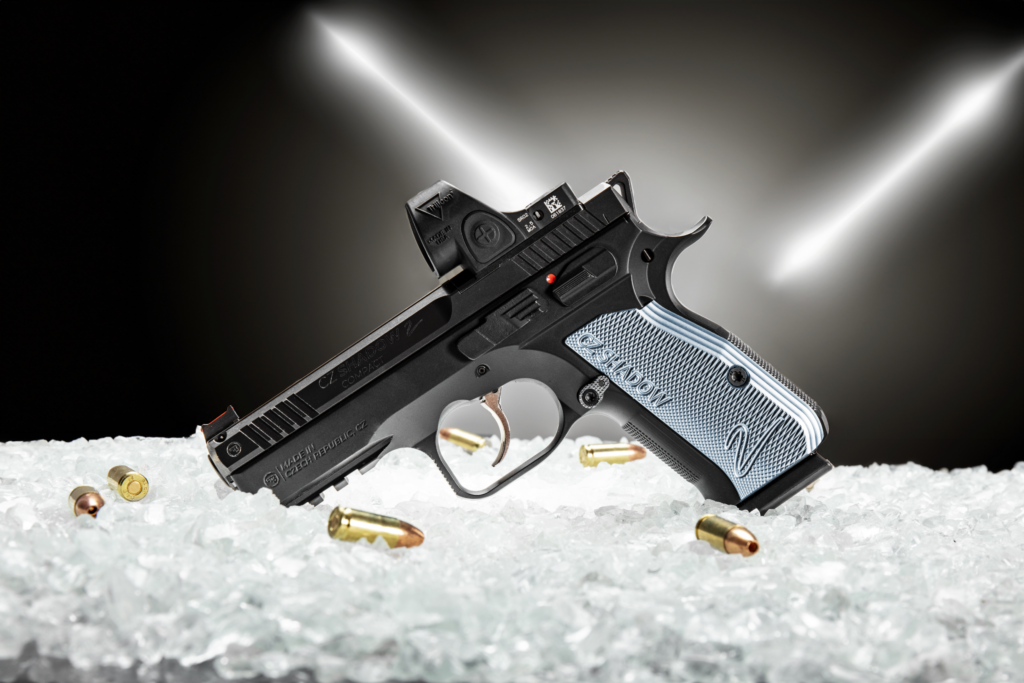 The same distinctive fit as the CZ SHADOW 2
Although the new CZ SHADOW 2 COMPACT is a smaller and much lighter version of the original, it retains the key competition-proven features, accuracy and handling that made its big brother so popular among elite sport shooters and contributed to its status as a world championship firearm.
Its light, compact frame is forged from highly durable 7075 aluminum alloy, making it the perfect choice for all day carry, as well as concealed carry. With a butter smooth trigger and shortened reset, quick and accurate shots are a matter of course. The slide comes with two pairs of front and rear cocking serrations for slip-free cocking, and the rear of the slide is equipped with an extremely low and robust mounting interface for attachment of a red dot sight. In fact, its mounting interface is identical to what is found on the CZ SHADOW 2 OR model and is compatible with the same mounting plates. But even without mounted optics, quick target acquisition is ensured by its highly visible red fiber optic front sight and height-adjustable rear sight, which can also be adjusted laterally.
The advanced ergonomics of the CZ SHADOW 2 series are not lost on the CZ SHADOW 2 COMPACT, so you can look forward to the same extreme shooting comfort and control that has won many championships around the world. Both left- and right-handed shooters will be equally at home with handling, thanks to its ambidextrous manual safety and reduced height magazine release button that can be swapped from side-to-side. An accessory rail on its dust cover allows for the easy mounting of a light or other devices, and checkering on its aluminum grips are the same as on the full-size CZ SHADOW 2 model.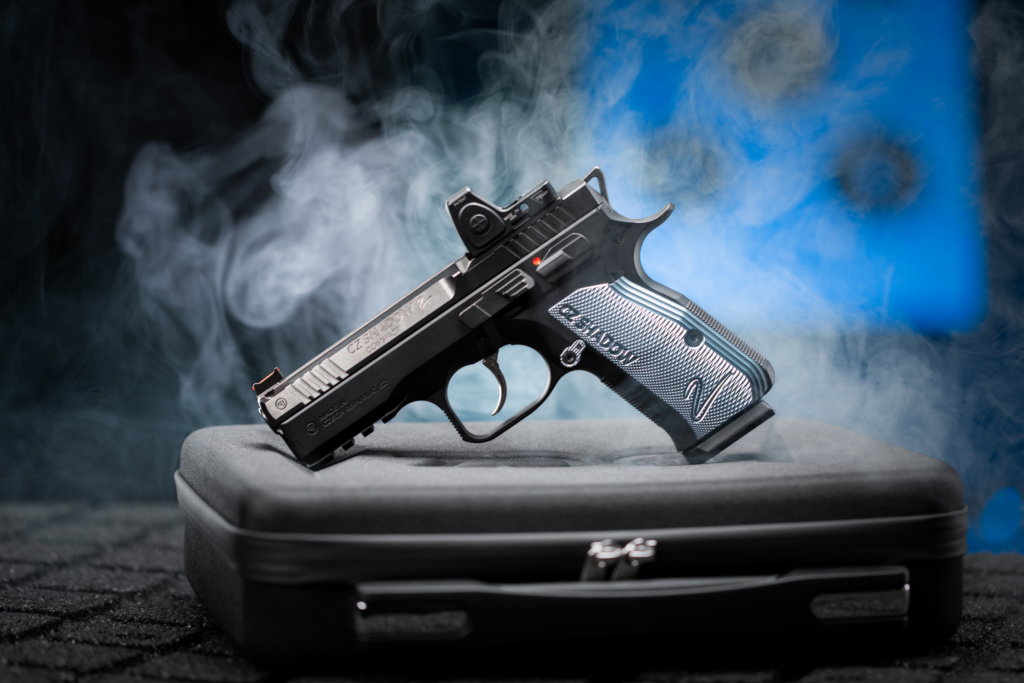 Competition-proven performance that is always close at hand
With the release of the new CZ SHADOW 2 COMPACT, CZ gives shooters the opportunity to have the full performance of its top shelf, championship series always within reach. All day, every day.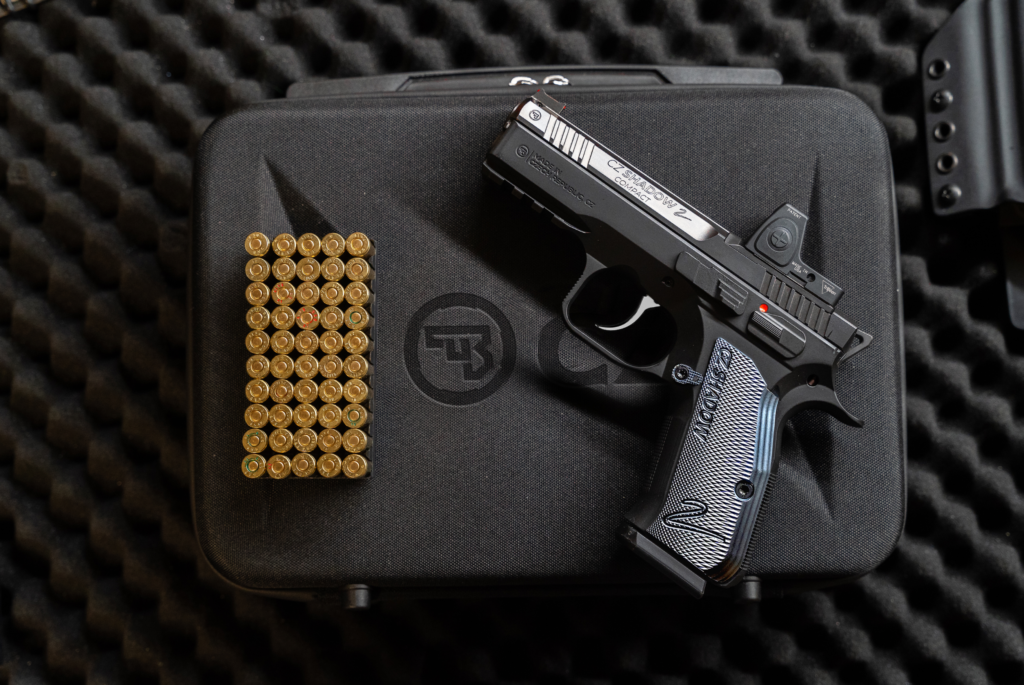 https://www.czforthosewhoknow.com/app/uploads/2023/09/o_-2-1.png
837
2500
sedlacik
https://www.czforthosewhoknow.com/app/uploads/2020/03/czftk-svg.png
sedlacik
2023-08-21 15:00:42
2023-09-22 09:18:48
A new measure of pure performance