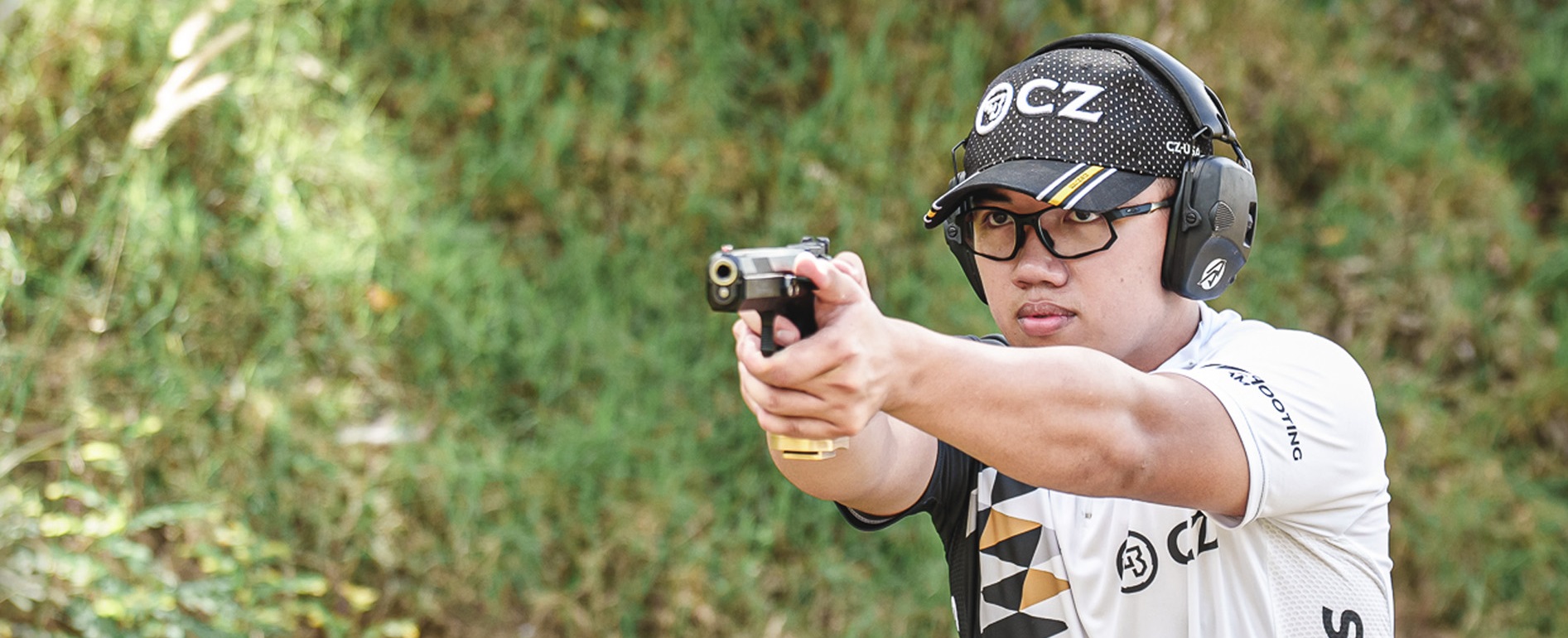 As one of the newest world champions on the CZ Shooting Team, you would think that the most important victory of Kahlil Adrian Viray's life was at the Handgun World Shoot 2022, where he finished first in the STANDARD division in the Junior category, first in STANDARD Overall, and first as a member of the Philippine team in STANDARD Team. But actually, his most important victory was his very first IPSC competition at the tender age of eleven. Without that win, none of his three world championship titles, or his many other championship wins, would have ever been possible.
In this wide-ranging interview with Viray, we discuss his early years and everything that led up to his three world championship titles in Thailand, including the details of his first "all or nothing" IPSC victory in 2013.
When did you first start shooting?
I started shooting airsoft guns when I was eight years old. I was playing "War Games", which are military simulation games that we have in the Philippines.
Were you naturally talented with shooting guns or did it take some time before you started to shoot well?
Actually, I was shooting well from the start. Not to boast, but I guess I was naturally talented.
When were your first competitions with airsoft?
 My first competition was a practical shooting tournament near my home in Olongapo City, Philippines. I was nine years old. It was an IPSC event with real guns, which included a small IPSC tournament for airsoft guns. I ended up winning the Junior division and finished first runner up overall. As a result, my interest in guns rose even higher and I continued competing in airsoft practical shooting matches until I was eleven. In fact, I insisted on attending every airsoft practical shooting match that was held near my home.
When did you start shooting real guns and competing in the IPSC?
 I shot my first real gun when I was ten. A policeman at the shooting range lent it to me. When I was eleven, my parents bought me a 40 S&W caliber STI Edge pistol.
 In 2013, when I was eleven, I joined the IPSC. My intention was to start competing at IPSC matches, but there was a catch. I had to agree with my parents that in order for me to compete, and continue competing, I would have to do well. I couldn't just do it as a hobby. The reason was that training was expensive and we didn't have any money to waste. If I were to compete, I would have to win. There was no other option.
 With this "all or nothing" agreement in place, I attended my first IPSC competition one month after joining the IPSC. It was a club shoot and I came out first in the STANDARD division. My parents were very proud of my performance, and thanks to this win, we agreed that I would continue competing. It was clear that shooting competitively was not going to be just a hobby.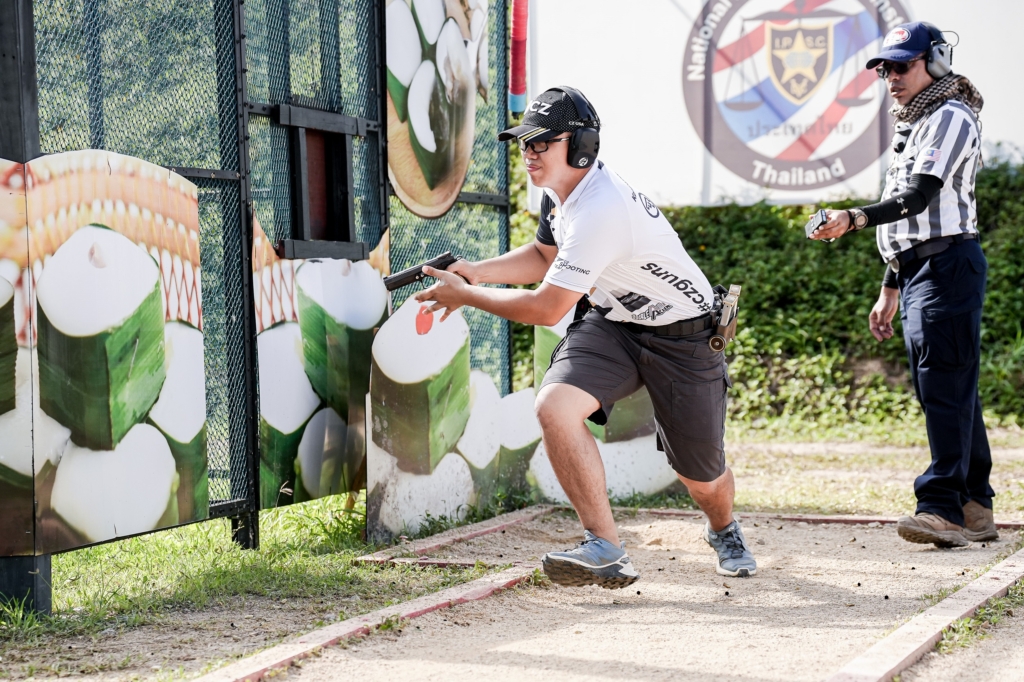 What about further IPSC matches and competing internationally?
In 2014, I went to Nationals in the United States. This was my first international competition. I finished first in the Junior category and finished 7th overall. In 2015, I attended the Far East Asia Handgun Championships in Malaysia, where I finished first in the STANDARD division in the Junior category. In 2016, I won Australasia in Surabaya, Indonesia.
 In 2017, I attended my first World Shoot, where I finished first in the STANDARD division of the Junior category and seventh overall. In fact, I competed against Eric Grauffel and finished seventh with 89%. I was only 15 years old at the time and believe I achieved a world record for finishing so close to Eric at this young age.
Did you always do so well at the competitions you attended?
Of course, you win some and lose some. But I have to say that my hardest years were 2018 and 2019, where I think I lost three international matches. I came in second in Thailand in 2018, and Serbia and Philippines in 2019.
The reason for my poor performance at these competitions was due to my gun and supplies. I was using a 2011 pistol, which is not compatible with a lot of ammunition. Since there were limitations to travel with my own ammunition at the time, I had to buy ammunition at the tournament. Due to incompatible cartridges, my gun jammed during some of the stages. After calculating the lost time due to these malfunctions, I found that I should have won all of the matches. Bad luck.
 In another match in 2019, I was leading by 100 points but then got 0 points on one stage, when debris from the primer got stuck in my barrel. As a result, the slide couldn't cycle.
 It goes to show that your personal performance alone is not enough to secure a win. Your gun and ammunition also play a huge part in helping secure a victory.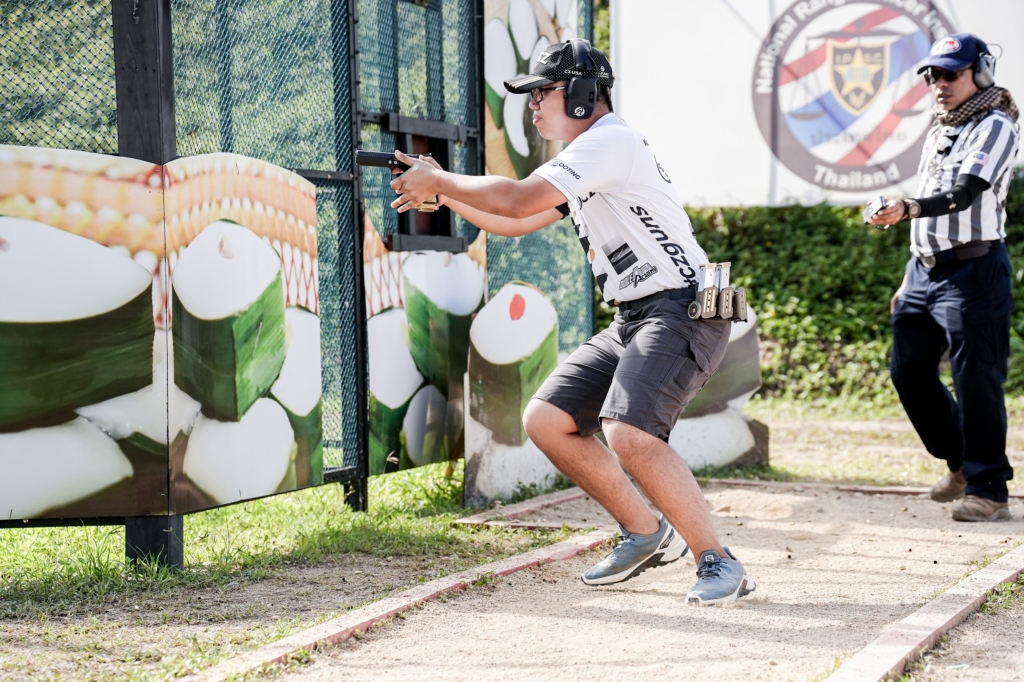 When did you start using CZ guns in competitions?
Actually, I didn't use any CZ guns before joining the CZ Shooting Team. It was always my dream to shoot with CZ guns and to be part of the CZ team, but it just didn't work out during the early days of my career.
I remember at past competitions that I would always see the CZ Team members as the superstars, with shooters like Maria Gushchina and Robin Sebo speaking with competitors and taking pictures with them. I also have some pictures together with them when I was younger. It's overwhelming for me to be on the team now, but it's a lot of pressure.
When did you join the CZ Shooting Team and finally get your first CZ gun?
 I first spoke with Jakub Sondel, leader of the CZ Shooting Team and CZ Chief Marketing Officer, in 2018 but went with another sponsor at that time for various reasons. I then got back in contact with CZ in 2021, when I was speaking with Jakub, Ivo Kadlic and Robin Sebo. The flagship CZ store in the Philippines later contacted CZ about me joining the team and Jakub asked if I would like to be a member.
 After joining the team, I received my first CZ gun – a CZ 75 TS CZECHMATE. The Filipino CZ Store then gave me a 9mm CZ TS 2 and 40 caliber CZ TS 2 Silver.
What do you like about CZ guns?
My shooting style is fast, so CZ pistols are perfect for me. The recoil is little stronger than on my previous 2011 pistol, but I like it. In the Philippines, we have 2011s with custom barrels and other modifications, but I shoot better with my CZ.
 The number one thing I like about CZ pistols is the trigger. You can ride it and it won't malfunction. The grip size is also perfect and has a different shape than on my 2011. Its ergonomics are more advanced, making for easier handling and shooting. Even though the 2011 has a heavy barrel and lighter recoil than the CZ, my hand still hurts after shooting it. But with my CZ TS 2, in particular, I don't have this problem at all. It handles recoil much better.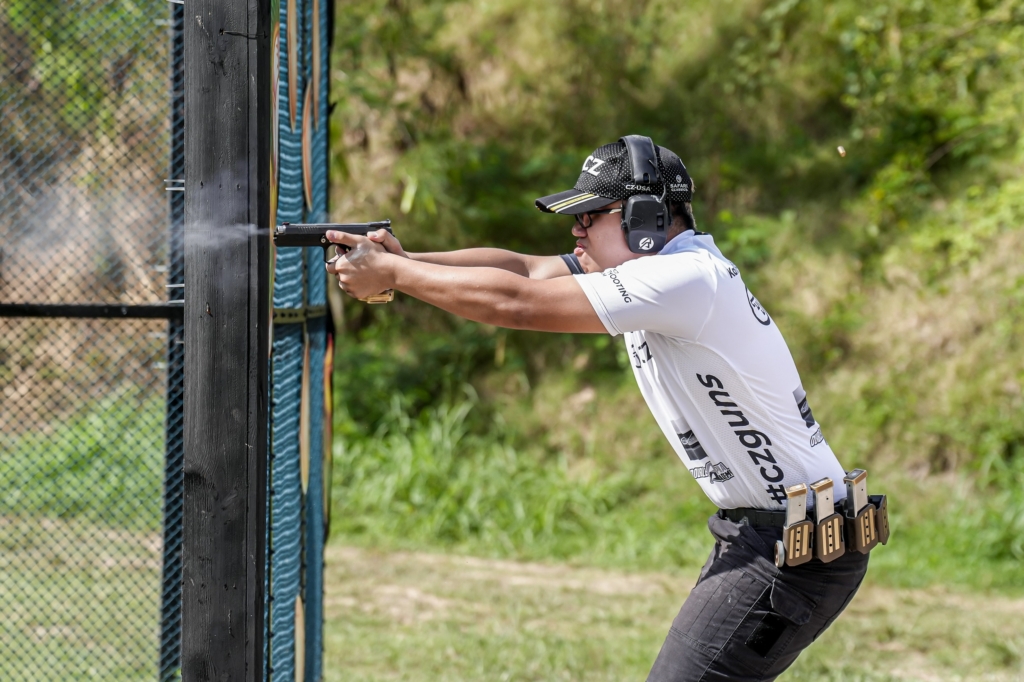 In what divisions are you competing?
I've tried different divisions over the years. I've shot OPEN and PRODUCTION in local matches, as well as PRODUCTION OPTICS in Level 2 matches. For international matches, I only shoot STANDARD and PRODUCTION OPTICS. Right now, I'm focusing on STANDARD and plan to continue in this division. In fact, Eric Grauffel recommended that I stay in this division and win multiple titles before moving on to other divisions. This is good advice and I'll be following it.
Can you tell us about the pistol you used to win your championship at the World Shoot in Thailand – the CZ TS 2 ORANGE?
I really like this model and it deserves a lot of credit for my win. Its bull barrel makes a big difference in helping to dampen recoil and allowing for tighter groupings. As this heavier barrel pushes the center of gravity forward on the pistol, I am able to achieve faster and more accurate follow-up shots. I also appreciate the aggressive cocking serrations on the top of the slide, as well as the angle of thumb rest, which I really like.
Can you tell us about your training routine and if it has changed over the years?
Dry firing is the foundation of my training. When I first started my career, 90% of the time was spent dry firing. This was due to budget constraints. Sometimes I would go to the range, set up a course and then dry fire for about an hour or two. Afterwards, I would shoot 50 live rounds.
 Looking back on the first five years of my career, I dry fired a minimum of one hour per day, with the average working out to about three hours a day. I was still in school for the World Shoot competition in 2017, so I dry fired about one hour before going to class and then dry fired for at least two hours after returning home. When training with my 40 caliber CZ TS 2 Silver pistol, I shoot an average of 300 rounds, and a maximum of 500 rounds.
Regarding my current training schedule, I normally shoot one to three times a week in the off season. For Level 3 matches in the Philippines, I train one to three days before the match. For international matches, such as the Handgun World Shoot in Thailand, I train every day leading up to the competition and try to rent a range for training before the competition starts. Unfortunately, this is not always possible, so I do a lot of dry firing in my hotel room.
An interesting note about my training is that after joining the CZ Shooting Team I shot a thousand rounds at day for one week at the EG-CZ Academy in France. I did this a few months before the World Shoot 2022 and it was the most intense training of my career.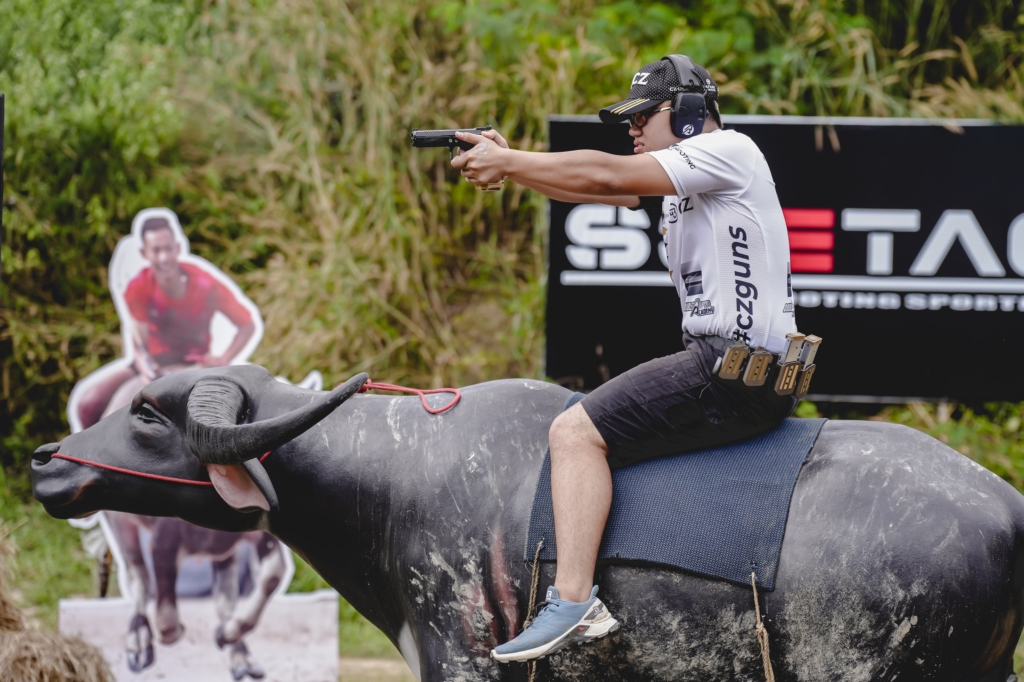 Physical training is important, but what about the mental side of competing at such a high level?
To help deal with the psychological pressure, I have a mental coach who I call before big matches. He helps with my mindset, which means staying in the zone and focusing on the present. He teaches me to not think about the future or what I had shot before. If I miss a shot, I can't think about it. I have to only focus on what I am doing at the moment. Every shot, every step, and every move as I am going through the stage. I consider this crucial and just as important as the physical part of my training.
 On the trip from my hotel room to the competition, I listen to techno or pop music, with the volume knob on 11! While waiting between stages, I watch the performance of my competitors, calculate scores and use this time to boost my confidence. But when I start the stage, I switch off my mind and put myself totally in the present.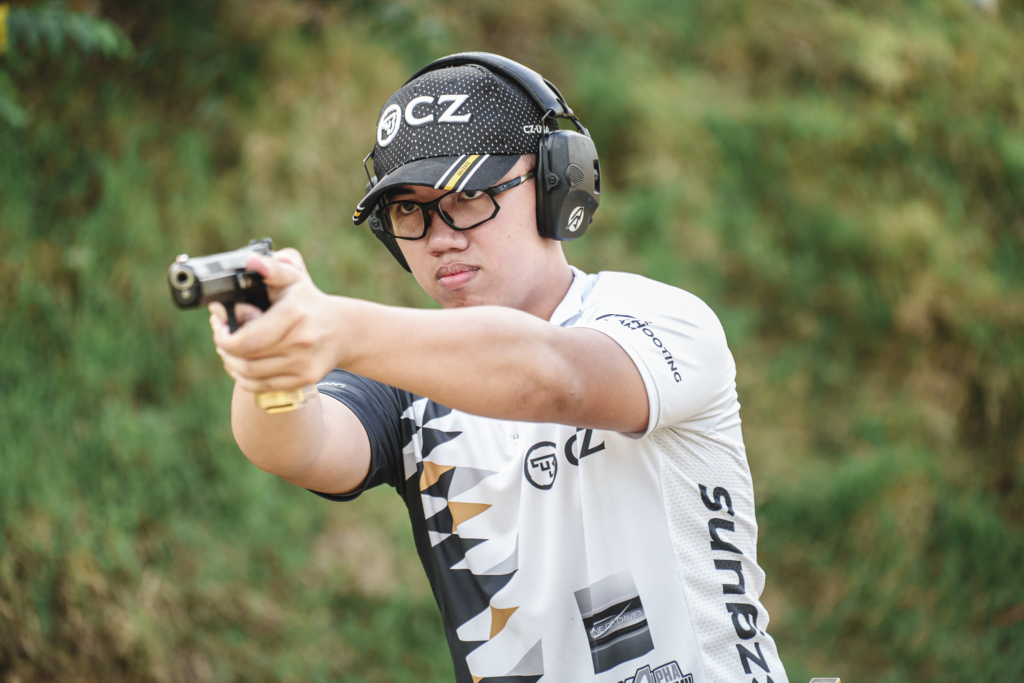 What advice would you give to younger shooters who are just starting out or thinking about shooting competitively?
Learn all of the safety rules, so they become second nature. An example would be removing your finger from the trigger guard when not firing and observing the 180 degree rule. If you watch me during competitions, you will see that I remove my finger from the trigger guard after engaging each target.
 If you want to compete and win, you have to be dedicated to training. And this does not mean just firing live rounds. Dry firing is also a very effective form of training and is free. You can do it anywhere, anytime. Dry firing served me very well over the years and all shooters can benefit from it.
 If you want to start competing, begin with club shoots at your local shooting range. Local shooters and trainers can provide guidance, helping you with your technique and pointing out areas where you need to improve. They can also inform you about bigger matches and how to prepare for them. After you're comfortable with club matches, you can move up to Level 1 and Level 2 matches. When you feel you're ready, you can then move up to Level 3 matches.
What are plans for the future, regarding the IPSC and CZ Shooting Team?
I plan to continue competing in the STANDARD division for the next World Shoot, and the World Shoots that follow, with the goal of retaining my World Championship title and working together with the Philippine Team to retain its World Champion title. Of course, there is more pressure to do well now that I'm a world champion, but I am motivated more than ever to stay on top.
 Now that my dream has come true to be a member of the CZ Shooting Team, I'm looking forward to learning more from such great competitors and becoming a valuable member of the team. I will do my best to uphold their reputation as the elite team in competitive shooting and help take them to even greater heights.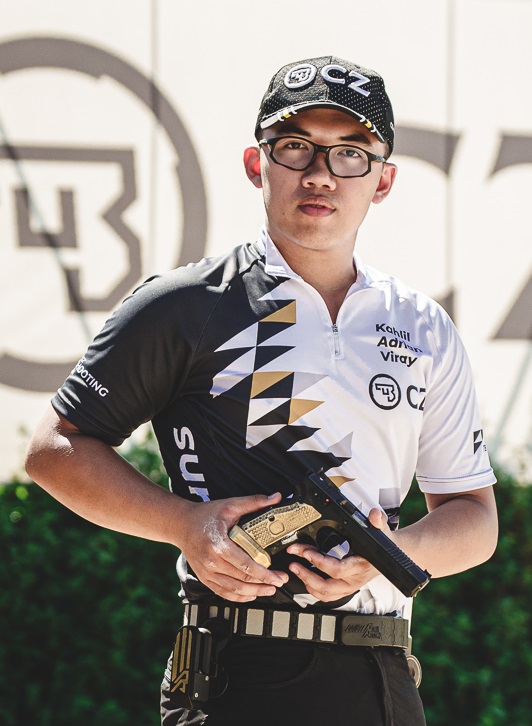 https://www.czforthosewhoknow.com/app/uploads/2023/10/kahlil-adrian-viray_d3s-0647_upr3-1.jpg
770
1893
sedlacik
https://www.czforthosewhoknow.com/app/uploads/2020/03/czftk-svg.png
sedlacik
2023-09-21 18:00:58
2023-11-03 10:22:30
The "All or Nothing" Champion